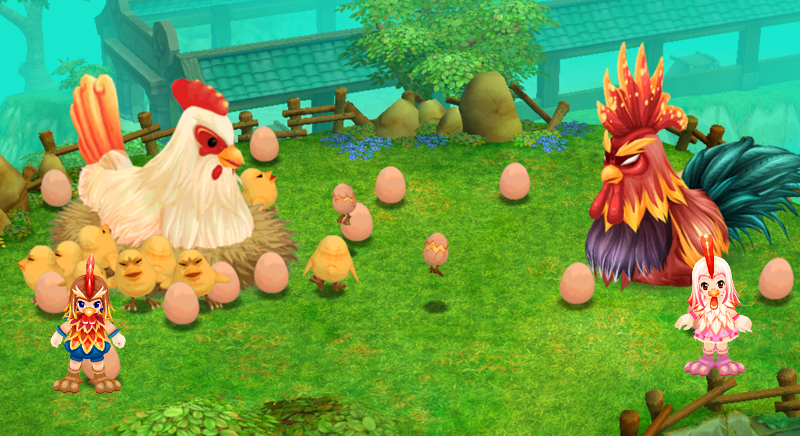 The Easter event will begin on March 29 and will end on April 12.
Face off against the King and Queen Hen at the Chicken Farm, access the Breeding Grounds and kill the the chickys.




In this event we will have the Chicken Raid:
The Raid Seal can be obtained by killing enemies in the Chicken Farm.
The raid will consist of defeating the Chicken Queen.
The Chicken King is going to defend the Chicken tooth and nail, you can kill him first to make it more optimal, or dodge him, you decide!
The best way to do the Raid is to use the Chicken Specialist (you can get a temporary event with the side mission), since more damage is done with it.
The raid can be 15 people.
The Hen invokes eggs that if they hatch can be disastrous.
Boss damage and health are percentage.
On the maps you can find Bird's Nest and Golden Nest, and hopefully you can collect event items.
At the end you will also receive [Golden Bird's Feather (Event)x1]

that you can use to craft rewards by talking to the

Margaret.
It will be necessary the [

 Chicken Queen Seal (Event)]  to be able to open the raid and also to join it. In this raid, you will be able to obtain [Raid Box: Chicken Queen]
---


 WORLDBOSS GREAT KING CHICKEN 

Additionally, a new World Boss called Great Chicken King will be added:

The portal will appear in due time at the Chicken Farm.
The maximum number of players will be 50 people, if it is full, another parallel event will be generated for the rest of the players.
The schedules within the Spanish schedule are the following, of which they will be notified 5 minutes before their appearance: 05:30 // 11:30 // 17:30 // 23:30 (server time).
If you don't use the Jajamaru or the chicken specialist, and your EastMates won't hurt the Boss .
To give pets related to the event held 501 damage, the rest 200 .

There is a system that checks the activity within the event,

do not stay absent

or you will be automatically expelled to EastVille.

The rewards will be the following: you will receive the same fame and experience as a normal world boss, x1 Golden Bird Feather (event) and  x1 King Chicken Chest (event) .
In the

 King Chicken Box (event) the following items can be obtained:
---

 SECONDARY QUEST 

Additionally, we can carry out a secondary mission that can be accepted in the Chicken Farm (accessed from the upper right of EastVille) by talking to Margaret , from which we can obtain excellent special rewards:



Complete the event quests daily by speaking to the Chicken Farm NPCs , accessed from the top right of EastVille.
Daily quests:


  MANUFACTURING  

Some of the best Raid prizes are also available at NPC Margaret for those who after many attempts have not been lucky enough to get them from the Raid chests.


  INFORMATION